Create a stylish crocheted tote for all your summer essentials with our fantastic free crochet bag patterns! Whether it's a trip to the market or lunch with your pals, we've got an option for everyone and they're the ideal use for your yarn stash! Just click any image to take you through to the free pattern download, happy hooking!
Colour clash
Step out in style with our colour clash circle bag! Worked in the round, it's the perfect size for all your essentials and would look great as part of any summer outfit. This crochet bag pattern is free to download!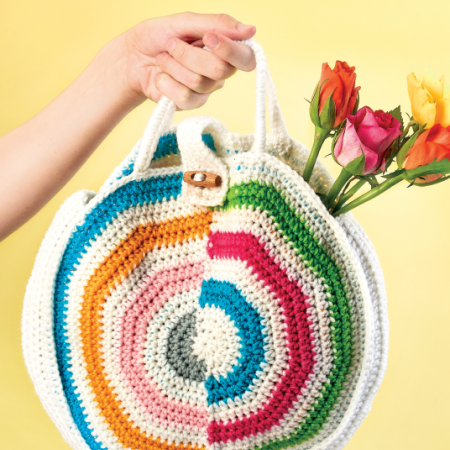 Top Crochet Patterns
Market bag
Turn heads at the farmer's market with this ombre beauty! Plus, cut down on plastic and do your bit for the environment by making this easy string bag using a selection of cotton DK yarns. All the stitches are worked into the chain spaces with the exception of the foundation row and handles. The stitches formed at the top of each treble are effectively ignored in this pattern, to give the bag more freedom to stretch when filled with oddly shaped vegetables.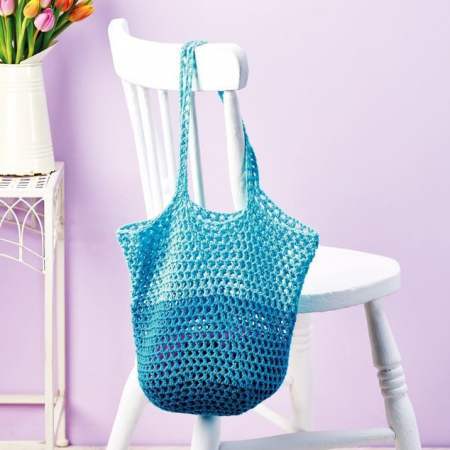 Top Crochet Patterns
Keep it boho
This cool and casual crochet bag is so on-trend and super simple to create. Whip up this amazing free crochet bag pattern in a bold shade, to make it even more eye-catching!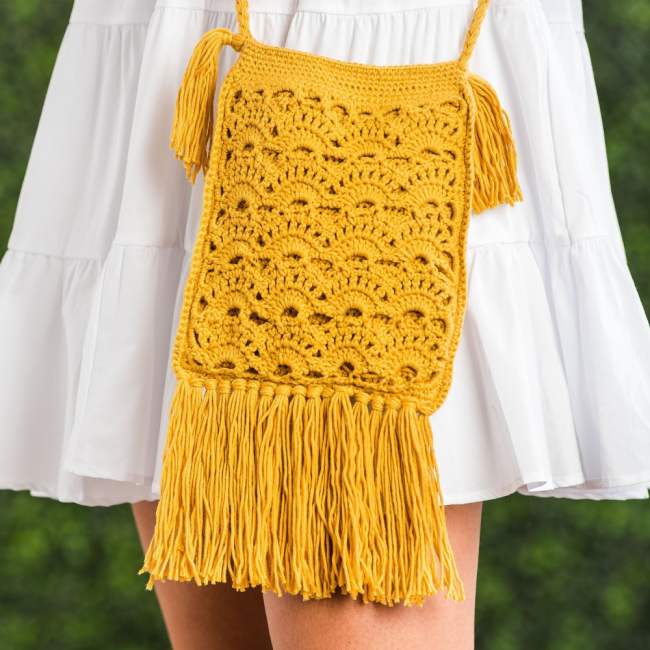 Yarnspirations
Brilliant bumbag
You can't beat a retro comeback and our bold bumbag is up there with the best of them. This free stylish design by Hannah Cooper is mostly made with half trebles, so it's super quick to whip up! This pattern requires you to use stitch markers to aid sewing up at the end. If you don't have any, just grab a spare piece of yarn from your stash and tie it around the stitch – voila!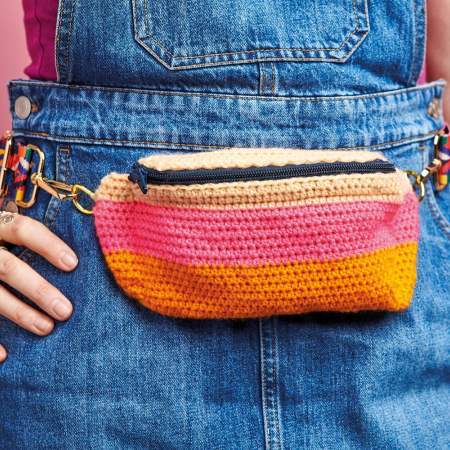 Top Crochet Patterns
Yoga mat bag
Namaste! Keep your yoga mat neat and tidy and look super chic when you turn up to class! This colourful crochet bag is ideal for beginners, we suggest making it in bold bright colours like we've done here!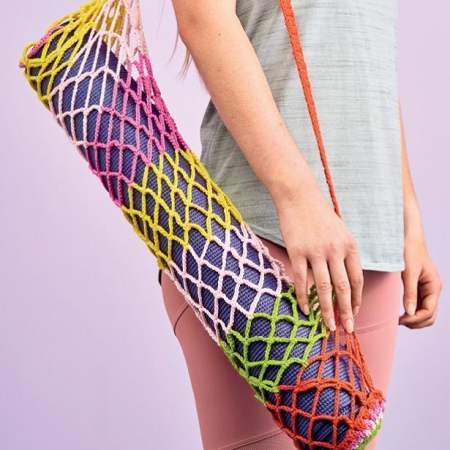 Top Crochet Patterns
Tunisian style
Designed using Tunisian crochet technique, we love this bucket style bag that is sure to become a summer staple!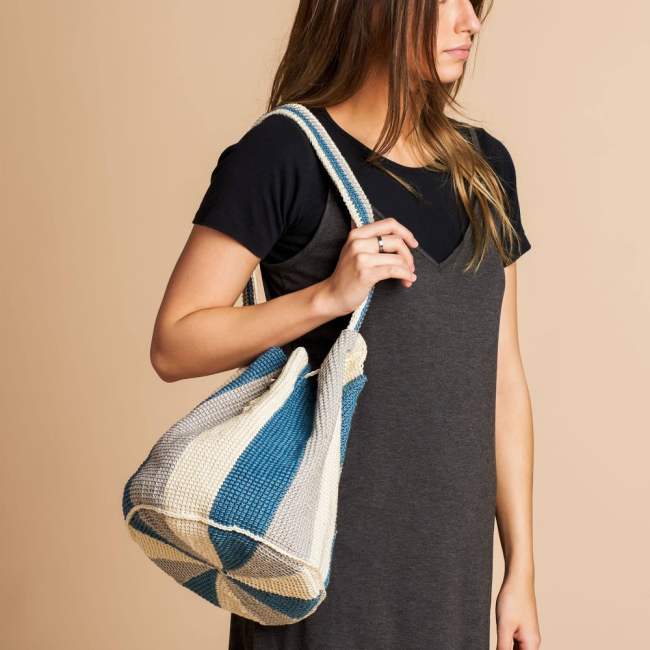 Yarnspirations
Folksy style bag
Learn new stitches while making a sassy shoulder bag. Looking for a little crochet challenge? Kath Webber's canteen-style shoulder bag features bobbles and front post stitches to create an eyecatching folky feel. To make the pattern easier, you could work the simpler back circle twice, instead of a front panel. Finish the bag by crocheting a long thin gusset and adding a fabric lining and leather strap.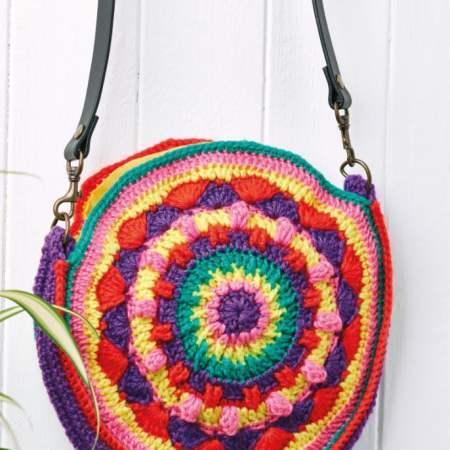 Top Crochet Patterns
Unicorn bag
This fairytale friend will keep your valuables safe. If you know a young unicorn fan, why not gift them Corinne Bradd's pretty shoulder bag? Crocheted in stripes of lilac, pink and white, it's easy to create and the horn and curly mane make it look extra-special! Alternatively, you can leave the horn off to make this for a keen horse rider.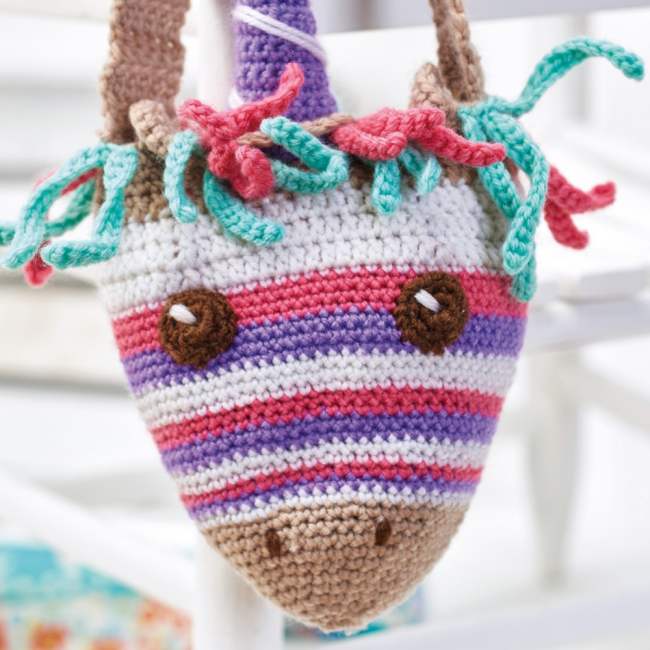 Top Crochet Patterns
Bottle holder
We all know the importance of drinking water and now you can take your bottle with you wherever you go, even if it's just around the house or garden, to keep topping up regularly. We love the water droplet decoration added by Heather Gibbs in this contemporary striped design, which is perfect for practising colour changes. Don't forget to mark the start of each round with a stitch marker to keep track of your stitches.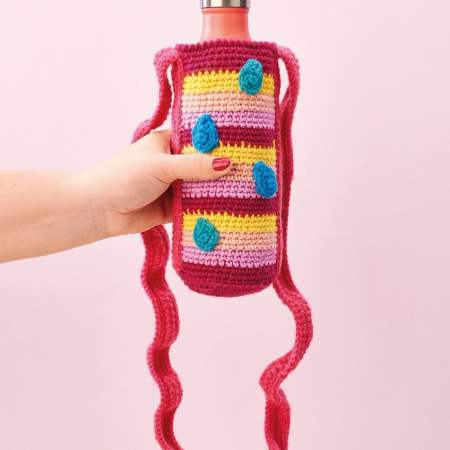 Top Crochet Patterns
Remember all of these fantastic crochet bag patterns can be downloaded for free!