BACK TO THE BEGINNING
You'll no doubt recognise Margaret as the super knitter who created the magnificent Sandringham Estate back in 2021, and blew us all away with the incredible details and sheer scale of her replica. The 93-year-old from Norfolk has since been awarded with a BEM (British Empire Medal) and raised more than £100,000 for local charities, with people travelling from far and wide to see her masterpieces. Though she has been knitting since the age of seven having been taught by her twin brothers, Margaret's flair for creating woollen scenes wasn't discovered until she started attending a craft club. "After my husband died, I joined a knitting group and we produced the Butterfly Garden and the following year the Enchanted Wood," Margaret recalls. "I enjoyed this so much that I decided to have a go on my own. The Great Yarmouth Sea Front was my first venture and was very popular with locals and holidaymakers. While in lockdown I knitted Knittingale Hospital to raise money for three local NHS hospitals." Margaret's work has helped to support the Louise Hamilton Centre, Anna Poppy Addenbrokes Hospital, three Norfolk Hospitals at Kings Lynn, Norwich and Great Yarmouth, and more.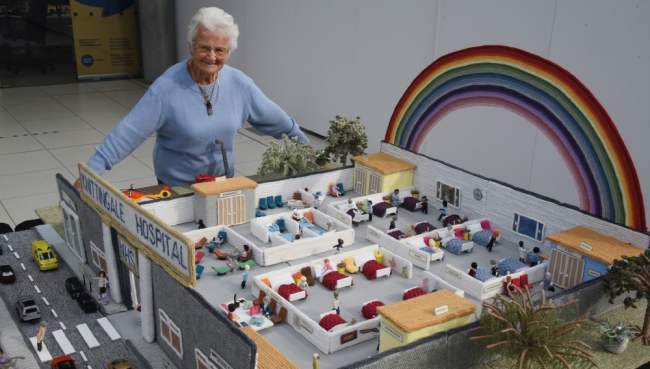 Eastern Daily Press, Knittingale Hospital
Margaret's Sandringham replica took her more than two years to complete, and the level of detail really is something to behold. How did Margaret go about creating it, we wondered? "I began by visiting the area and taking photos of the main house from all angles, and also the gardens, trees and paths," she explains. "Then I studied them and decided whether to have a go and knit it." Once the house and gardens had been completed, they went on display at the Norfolk Makers Festival in Norwich. "To my relief everyone liked it," Margaret says. "Then we went into the first lockdown so I decided to extend it and knitted the museum, stables, the extension to the main house, ballroom, church and over 100 trees." We asked Margaret how she motivates herself to finish a project this size, and resist leaving it unfinished in favour of new projects – something even the most dedicated knitter is guilty of. "I get carried away with the project and just keep working with it until I have completed it," she tells us. "But I am always thinking about what the next project could be, choosing something that everyone will recognise and enjoy looking at. Sandringham did work out much larger than I intended but then I will blame that on the lockdowns," she smiles.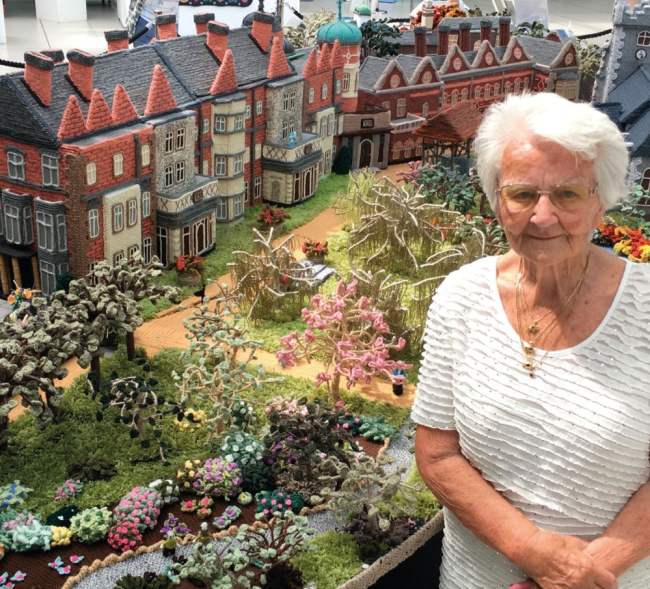 Sandringham Estate, Jayne Evans
It wasn't just the audience at the Norfolk Makers Festival that was impressed with Margaret's creation. The late Queen Elizabeth II was also enchanted by it, and Margaret was invited to meet her. "It was wonderful meeting the late Queen in the ballroom at Sandringham," Margaret tells us fondly. "My daughter and myself were setting the display to open the following day when she came in. It was the most magical moment of my life." This year, the 2023 Norfolk Makers Festival will have a royal theme, and Margaret has been working on something special to exhibit there. "My new project is a tribute to our beloved late Queen." Margaret says she loves exhibiting at the festival, "because we meet so many lovely people who come to see all the exhibits, plus the staff are all so friendly and helpful for us."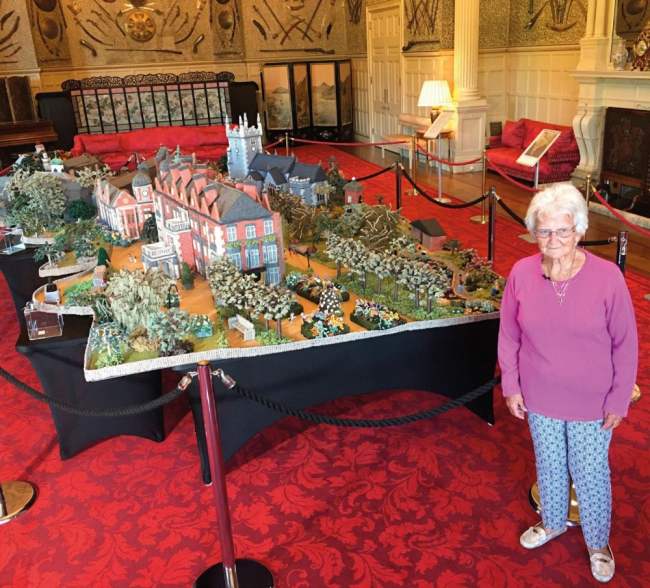 In the Sandringham Ballroom, Jayne Evans