Sometimes the world can be a rather sad place. But, if there is one thing that is certain to brighten up your day, it would be the unexpected event of stumbling across a small, crocheted or knitted duck – would it not? These little friends are hidden in places up and down the country and across the world and the task if you find one is always the same; go straight to thelittleyellowduckproject.org and report where you've found your duck. With each yarn-blooded creature comes a little tag – 'in appreciation of the world's lifesaving blood, bone marrow and organ donors'. The project started with a lovely woman named Clare Cruickshank who unfortunately passed away in 2013, aged 26, from cystic fibrosis, due to never finding a donor for her lungs. The Little Yellow Duck Project has been inspired by Clare's generosity, her sense of fun and her love of little yellow ducks. Each handcrafted little yellow duck gift aims to spread a little happiness to its recipient and a little awareness of how we can each save or transform the lives of others through blood, bone marrow, organ or tissue donation.
Keen knitter Sarah Swatridge decided to join the conversation and knit a few ducks herself, whilst also writing this short story about how much joy receiving a little duck can bring. Enjoy!
Finders, Keepers by Sarah Swatridge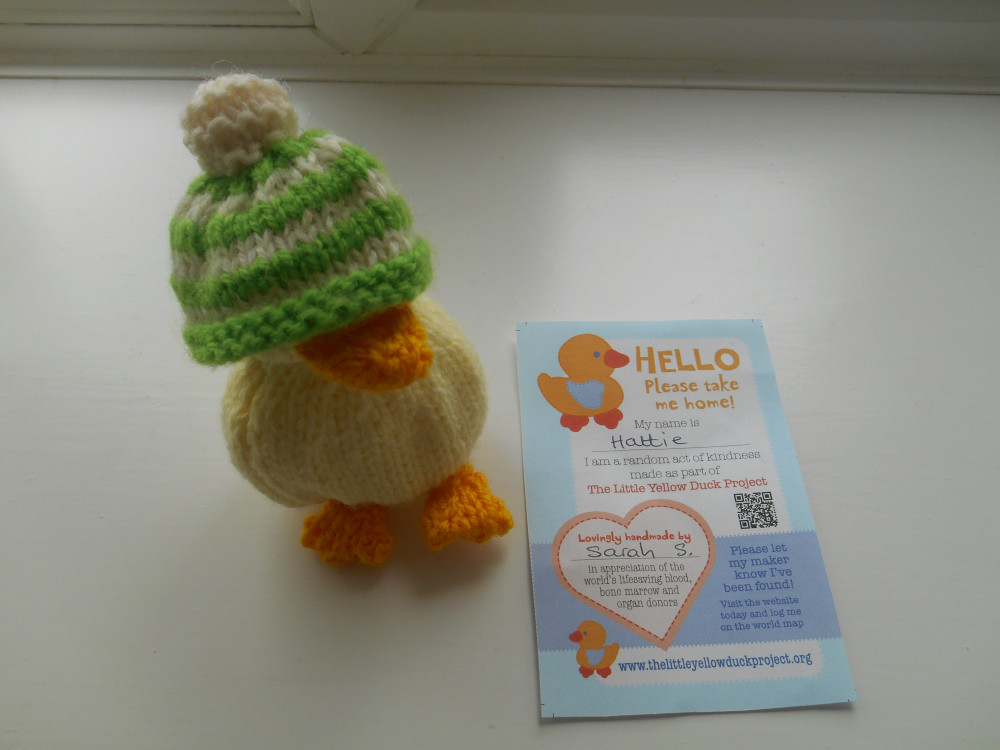 "You have Rosie this afternoon?" Sophia asked. "For one hour, only?"
"No problem," Pam told her Polish daughter-in-law. "I'd be delighted."
Pam's son Ben and his family lived ten minutes' walk away. At around two o'clock Sophia arrived with Rosie in the pushchair.
"Dzien dobry! And how's my favourite grand-daughter then?" Pam said as she picked Rosie up. She took after Sophia and was slight.
"I back soon," Sophia said.
"Take your time," Pam told her. "I've got a letter to post so we'll walk up to the post box and then I'll get the toy box out and she can have a play."
Pam watched as her daughter-in-law buttoned up her jacket and disappeared. She sighed. Sophia came from Krakow and was painfully shy. Pam didn't feel she knew her, and had learnt a few Polish words to make her feel at home.
"Do widzenia," Pam called and waved goodbye.
After a few minutes Pam wrapped Rosie up in her quilted coat and slowly they wandered up the road to the post box.
Rosie stopped to look at everything. Pam marvelled at the way her grandchild saw the world; it was all so new and exciting. She examined puddles, stones and twigs. They watched a pair of squirrels running around and scamper up a tree.
Pam remembered Ben at the same age, he ran everywhere and talked all the time. Rosie plodded along and said only the occasional word, but took it all in. Pam couldn't fault her daughter-in-law, Rosie had delightful manners.
Rosie was happy to pose for her grandmother to take a few photographs. If Pam had her way she'd have Rosie more often. She'd offer to babysit when Sophia returned. It would do her and Ben good to have an evening out together, although she doubted they'd take her up on the offer.
It wasn't as though Sophia's mum saw much of her grandchild either, she still lived in Krakow. Pam had met her at their wedding and again when Rosie was christened. At least Pam saw her grandchild a couple of times a week. Sophia was good enough to give Pam a lift to the supermarket once a week and another day they met at the leisure centre. Rosie had a swimming lesson which Pam watched, and then they would all sit in the café and have a cuppa.
Despite this Pam knew next to nothing about her daughter in law. She could see she worked hard and made Ben happy. It was true she wasn't a domestic goddess but since she and Ben had got their own home she'd improved and now even asked for the occasional recipe.
Pam lifted Rosie up and let her post the birthday card to Pam's sister. It was as she was doing so that they noticed the little yellow duck in the old red phone box.
The phone box had been abandoned long ago but last year some volunteers had given it a new coat of paint, mended the broken glass and filled it with paperbacks. Pam often helped herself to a book in return for one she'd donated. The system worked well.
"Duck," Rosie said and pointed.
"Let's have a look shall we?" Pam put her down and opened the door to the telephone box. It creaked.
The interior had been renovated recently. It still smelt of fresh paint. There were carpet squares on floor and shelves all around. The duck was on the bottom shelf with a few children's books.
It was a small hand-knitted duck and attached to it was a large label. Pam read with interest. It was part of the Little Yellow Duck Project to raise awareness of the need for organ, stem cell and blood donors. The duck had been left as a random act of kindness and they could have it.
"It's just as well we could keep it," Pam explained to Sophia later over a cup of tea. "She hasn't stopped talking to it since." They laughed as they watched Rosie mimic them with her plastic tea set. She was pouring cups of tea for herself and Twinkle the duck.
The name 'Twinkle' took Pam back to her childhood. She'd loved reading her Twinkle magazine, particularly Nancy the little nurse.
"It says here you can let the knitter know it's been found," Pam said once she'd read the label. "I think we ought to do that and thank them."
Pam already had her tablet out to show Sophia the photos she'd taken of Rosie on their eventful trip to the post box.
She typed in The Little Yellow Duck Project and found the 'world map' where she entered the details of where they'd found Twinkle and the date.
Later that evening there wasn't much on the TV so Pam reached for her knitting bag and searched for a ball of yellow wool. She downloaded a simple duck pattern from the website and began to knit. It didn't take long.
"You are clever," Sophia said the following day. "Rosie loves Twinkle very much."
Pam agreed. She named her freshly made duck Daphne after her sister and left it on the seat in the bus.
"Excuse me?" a young lad called after her, "you've forgotten this." He handed Pam back her duck.
She wasn't put off. She did her shopping and while she was waiting at the checkout discreetly hid Daphne near the cash desk.
"Stop!" called the cashier, "You've dropped this…"
Pam thanked her and popped Daphne the duck back in her bag. On her way home she passed by Rosie's home and wondered about leaving it on her doorstep but she already had Twinkle. Sooner or later Pam knew she'd successfully abandon Daphne for some other child to find. So far it had been easier to knit the duck, than to hide it.
To Pam surprise that evening Sophia rang, "You teach me to knit, please?"
"So you can make a duck?" laughed Pam.
"Twinkle makes Rosie happy. Ben's gone to give blood, because someone knitted little yellow toy. I must do same."
Pam was delighted and anxious in equal measures. Her prayers had been answered. Perhaps teaching Sophia to knit would bond them together but it troubled her because she'd never taught anyone anything.
This was the first time Sophia had shown any interest in learning to knit. Pam had expected her to when she was carrying Rosie but Sophia had been working full time and understandably was always tired.
After Rosie's swimming lesson she happily watched a cartoon while Sophia tried to cast on. It hadn't been straight forward and it didn't help that Rosie kept looking up and asking, "All done?"
Pam would understand if Sophia gave up but at least they'd tried and they laughed together when things went wrong. That was a first. Mainly because of the language barrier, they'd never shared a joke or funny story.
At last Pam successfully left Daphne the duck in the children's corner of the local library. She texted Sophia saying, All done, knowing that Sophia would understand her cryptic message. In fact it had been Sophia who had suggested the library as a good place to leave a duck.
"Ben is home," Sophia said. "He bath Rosie. We eat later. I come, one hour, for my next lesson?" asked Sophia. Pam was taken aback by her enthusiasm but warmed by the feeling that at last they had a shared interest and were spending time together on a project.
It was slow progress teaching Sophia. At one point Pam stood behind her and talked her through, literally one stitch at a time. It took all the patience she could muster and she was grateful they were both right-handed.
"I'm sure you could watch someone on You Tube. That might be better." Pam suggested. "Or you could crochet or sew a duck instead?"
"I already look on You Tube," Sophia told her mother in law. "I like it here, with you. I can ask questions. You very patient."
Pam didn't feel like a natural teacher at all, but she had to admire and respect Sophia's perseverance. She was quite touched that Sophia told Ben what a good teacher she was.
"My duck's been found!" Pam told Sophia the following week when they headed off to the supermarket together. She'd been checking the website daily and was so excited when Daphne's name appeared. It spurred Pam on and she knitted two more.
Meanwhile Sophia plodded away at her first attempt. The yellow wool was looking a little grubby from being unpicked so many times and re-worked. Eventually the duck was finished.
"Well done for sticking with it. Many would have given up," Pam told her as she inspected the creature. It wasn't perfect but Sophia was proud of her efforts and photographed it, sending a picture to her mother with the message, "I knit by myself."
"That's a miracle!" Her mother replied and Sophia translated. "Well done to you and Pam your teacher."
"Dziekuje Ci. Thank you," Sophia said once more.
So that's what Sophia called her duck, 'Miracle'. "I keep him," Sophia said. "I make more, better now."
"That's a good idea. I'd knit a new one, if I were you, and keep Miracle. It'll be easier next time round, you'll know what to do." Pam hoped she sounded tactful.
Much to everyone's surprise two days later Miracle Two appeared and was instantly recognisable as a duck. Sophia was clearly tremendously proud of her efforts and very grateful to Pam for her help.
After Rosie's swimming lesson, both Pam and Sophia had ducks ready to leave for someone else to find. It was easier to hide the ducks because they worked as a team. Pam acted as look-out and Sophia hid them, but not too well because they were intended to be found.
At the weekend Ben brought Sophia and Rosie round for Sunday lunch as he often did. Sophia had just started another duck. Pam thought she looked tired and hoped she wasn't staying up too late just to finish another row. Pam knew how addictive it could get when you could so easily do something so rewarding and positive.
Pam helped Ben and Rosie load the dishwasher. Sophia was supposed to be knitting in the lounge but she'd fallen asleep.
"Don't worry Mum, I'll take Rosie out to the swings. We'll be about half an hour. I'll text you when we're on our way home and maybe you can put the kettle on?"
Pam watched as Ben tenderly kissed Sophia's hair and carried little Rosie out to get some fresh air.
Pam wiped away a little tear. She felt so blessed she'd been given a chance to do something so simple but heart-warming with Sophia and now they shared a real interest and one that was sure to last.
After a few minutes Sophia stirred, apologised and continued with her knitting.
"I finish this duck, then I knit something else. You find me simple pattern, please?"
"Of course," Pam said. "What did you want to make? A scarf?"
"A baby blanket, yes?" she blushed and Pam's heart skipped a beat. "I have to finish in six months, ok?"
"That's wonderful news," Pam cried as she hugged her daughter in law. "That'll be Miracle Four."
A little while later Ben returned home with Rosie. She clutched Twinkle in one chubby little hand and another bundle of yellow wool in the other. Pam and Sophia looked at each other and laughed.
"What have you found?" Pam asked Rosie.
Without a second glance she handed over the new duck but kept a tight hold on Twinkle.
"Duck," Rosie said and showed them. Miracle Two had returned.
"Actually," Ben said reaching into his pocket, "We found Doris too."
"Looks like we'll have to take another walk in the park next week and try the café or the bandstand or maybe the bird-hide?"
Pam looked at her ball of yellow wool and the embryonic duckling she was creating. "At least I have a name for my next duck, I'll call it Boomerang because you throw them away and they keep coming back!"
Don't forget to visit thelittleyellowduckproject.org to download a pattern or find out more.