Us creative types have two great loves in this world: crafting and Christmas. When they collide we're positively giddy, so as you can imagine Christmas Jumper Day – organised by the wonderful people at Save the Children – is our favourite event of the year. On a Friday in the middle of December, people join together in festive knitwear, whether crazy or classy, plain or interactive, and make a donation. Campaign Fundraising Manager Brea Thibodeau let us know how it all began.
"It all started after seeing Colin Firth in Bridget Jones's Diary," Brea jests. "The campaign began as a small event that we piloted with our incredibly dedicated Save the Children volunteers. We had no idea it would capture the imagination of the British public! Since then we've had millions of people take part, hundreds of celebrities on board, amazing support from corporate partners and, of course, the weirdest and wackiest jumpers you've ever seen!" On the subject of bizarre sweaters, Brea mentions that they've even kitted out royals – well, the waxworks – in festive attire. "My favourite moment has to be dressing them at Madame Tussauds. Kate and Will were in a double-headed ensemble and we even had jumpers for the Corgis." The reason Christmas jumpers were chosen is due to the sheer joy they bring. "I dare you not to smile when you wear one," she exclaims. "Handmade, glitzy, baubly, musical-themed, comedic – there's just something for everyone." Bringing people together in this way and supporting Save the Children helps to spread happiness to some of the toughest places in the world. "Making sure children have the opportunity to grow up healthy, happy and ready to make their own mark on the world is important– to me, that's really something to smile about."
Since its launch in 2012, the campaign has raised a staggering £17 million. "Just £2 could pay for antibiotics to treat five children suffering from pneumonia, which is one of the biggest killers of children," explains Brea. Last year Save the Children reached over 13.3 million children with its programmes – it's amazing that by pulling on your festive knits, you really can make a difference. So, what are you waiting for? It's super easy to sign up at christmasjumperday.org and you'll you'll have access to free patterns and a fundraising pack too. "We've opened registrations early this year and already have 1.7 million amazing woolly-wearers taking part!" reveals Brea. "I'm feeling positive that we'll have more than four million this year"
Find out more and get a free fundraising pack at christmasjumperday.org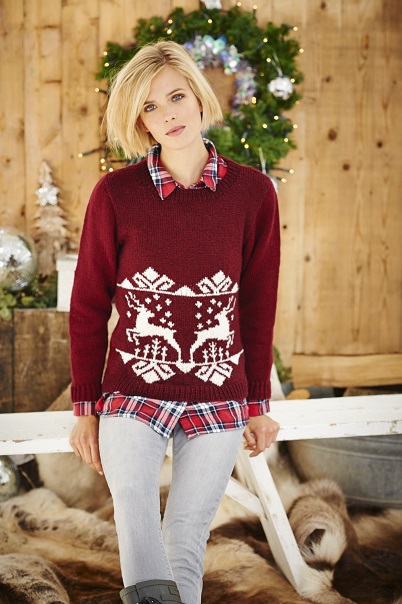 Perfect for a smart Christmas Jumper Day at the office, we love this simple and elegant design – and it's affordable too. Made in Stylecraft Special DK – which is only £1.67 per ball – you'll be able to whip it up in no time without emptying your purse. Get yours, along with a free matching snood pattern, for £2.69 at deramores.com.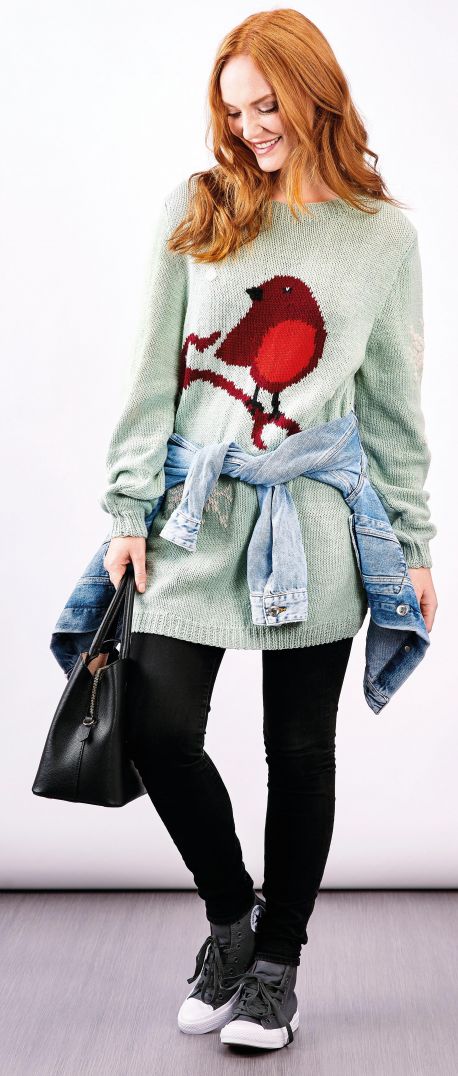 Having one of those days where you just want to hide under a duvet? A snuggly oversized knit is the only cure and Jacinta Bowie's stylish jumper is our go-to. If you're trying to encourage a teen to get involved in the charitable occasion, then this is the one for you. The robin is worked using the intarsia technique while the snowflakes and finer details are embroidered afterwards using Swiss darning and chain stitch. If you're not a confident knitter, then you could try making a simpler motif and sewing it on afterwards. This fun knit by Bergère de France is perfect for Christmas Jumper Day. Smart design? Check! Fun slogan? Check! We can't wait to get our needles on this high-neck winter must-have. Recommended for intermediate crafters, it's made using rib stitch and stocking stitch and, depending on your skill level, you can embroider the Fair Isle motif or use the chart provided. Get the pattern, available in sizes S to XXL, in time for the big day at bergeredefrance.co.uk.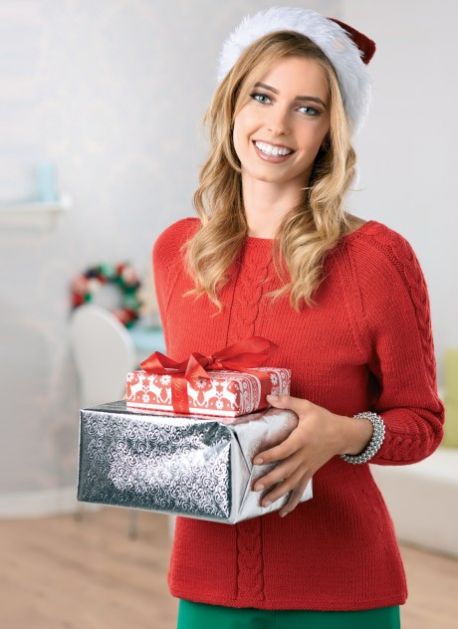 If you're looking for something subtle, look no further than this cheerful sweater designed by Siân Brown. A bright red jumper guarantees to bring a smile at Christmas and is certain to get everyone in the festive mood! If you're new to knitting, this classic raglan design is the best way to get to grips with garment construction.
Click here for even more Christmas projects to download today!