Issue 102 of Let's Get Crafting is on sale on 14th June 2018, and Stuart Hillard tells you why you need the issue's sweet-as-can-be Melody yarn pack…
Say hello to sunshine with this issue of Let's Get Crafting. I love this time of year for the chance to spend more time outdoors and the abundance of colour everywhere you look. Whether it's the blooms in my garden, a row of deckchairs on Scarborough beach or my latest crafting project, there is colour all around us and it never looks prettier than in the sunshine. It's also peak wedding season and I couldn't help but think of pretty bags of pastel sugared almonds when I saw this issue's free Melody yarn pack. Gentle shades of caramel, coral, lilac, wisteria, mint and soft, golden yellow make for a delicate palette that's almost good enough to eat! Your kit would make the most perfect crochet bunting for a special garden party or to drape along a windbreak at the beach. Use the 3mm hook included with your pack – see, we think of everything! – to make 2ch, then work 2dc in each chain, work another 2ch, then work 2dc in the first stitch and 1dc into the remaining stitches. Work 2ch at the beginning of each row and continue to work 2dc into the first stitch, then 1dc in every remaining stitch. As the number of stitches in each row increase, you'll see your first triangular bunting pennant appear. Work 25 rows then fasten off your yarn. Make a whole bunch of them then join together along the top edge with double crochet stitches. How easy and fun to make beautiful crochet bunting? Have a great summer and enjoy all the colours around you.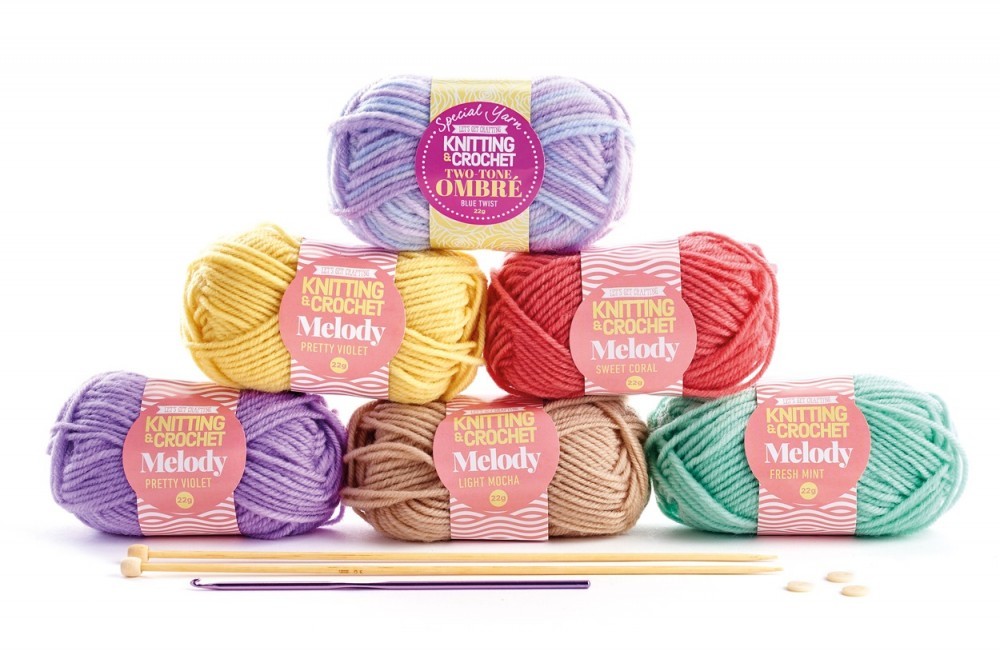 Don't miss issue 102 of Let's Get Crafting – on sale 14th June 2018! Never miss an issue by subscribing to Let's Get Crafting today.