Issue 101 of Let's Get Crafting is on sale on 10th May 2018, and Stuart Hillard tells you why you need the issue's amazing Marine yarn pack...
Welcome to issue 101 and your exclusive yarn pack – this month it's called Marine and taps into one of my favourite trends, ombré! Whether it's ombré nails, hair, lips, fabric or yarn, this fabulous trend for smooth graduations of colour is where it's at. Those beautiful turquoise shades of Mermaid Tail, Seaweed Green and Dolphin Blue mix wonderfully with Jellyfish Pink, Coral Reef and Himalayan Salt. You could stick with the ocean theme and crochet an octopus or get inspired by the blossom on the trees in springtime as I was and make a granny square bag. Learning to crochet is fun, easy and the results are quick. There's a lot of guidance in Crochet School on page 64 if you've never done it before. And if you go wrong, it really isn't the end of the world – leave your mistake in as a design feature or unravel and try again. Use three different shades of one colour or mix and match to make a total of ten granny squares. Join them together by oversewing the edges with a tapestry needle or join with a slip stitch into a rectangle shape, then fold the bottom two rows up and crochet the sides together to make a bag. You can then fold the top row down to make a flap. Why not add a simple loop made in double crochet stitches and a button to fasten your bag? If you want to wear your bag out, add a shoulder strap with a row of trebles worked into a foundation chain. Have fun experimenting with the ombré trend and your fabulous Marine yarn pack this month!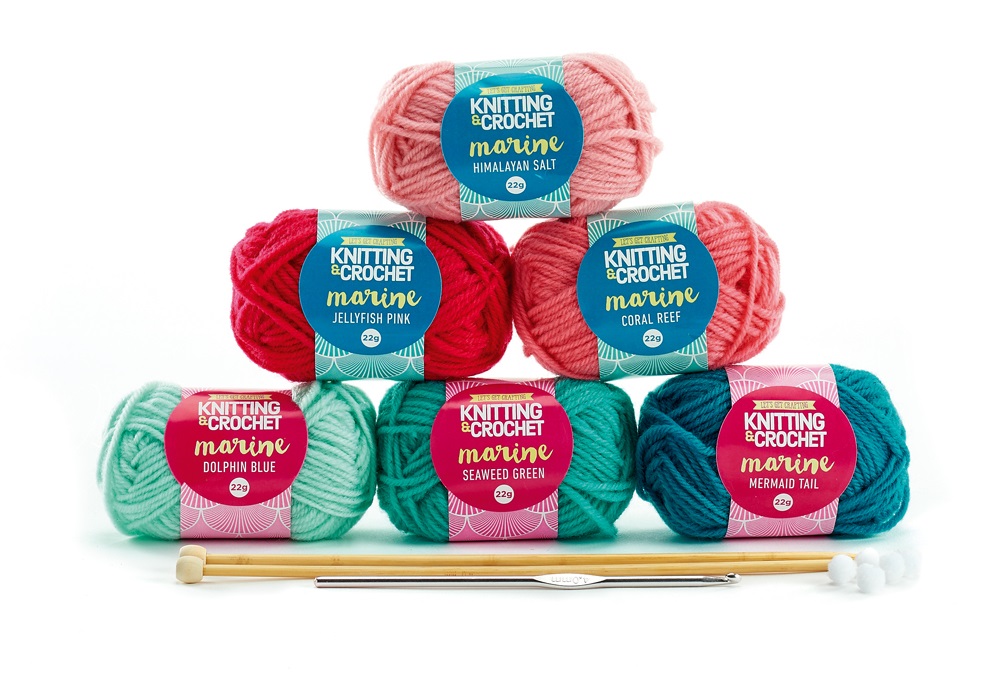 Don't miss issue 101 of Let's Get Crafting – on sale 10th May 2018! Never miss an issue by
subscribing to Let's Get Crafting
today.