Meet Lizzie Francis, a designer at Purple Creative, who was set the challenge of making a nativity of the woolly variety! Read on to find out how Lizzie achieved a crochet miracle to help raise money for Great Ormond Street Hospital.
ABOUT LIZZIE
Lizzie Francis is an avid knitter who's been knitting since the age of five, with the help of her nannie. She started knitting squares which she sewed together to create cushion covers, then progressed on to toys and clothes for her teddies. Lizzie made her first jumper at 11 to receive a Girl Guides' badge, but stopped knitting until she finished university. Since then, she has reignited her passion and now receives many requests from friends and family. Her dad often chooses items from Lizzie's shelf of knitting book, and as a result has a growing collection that includes iguanas, dinosaurs, foxes and elephants.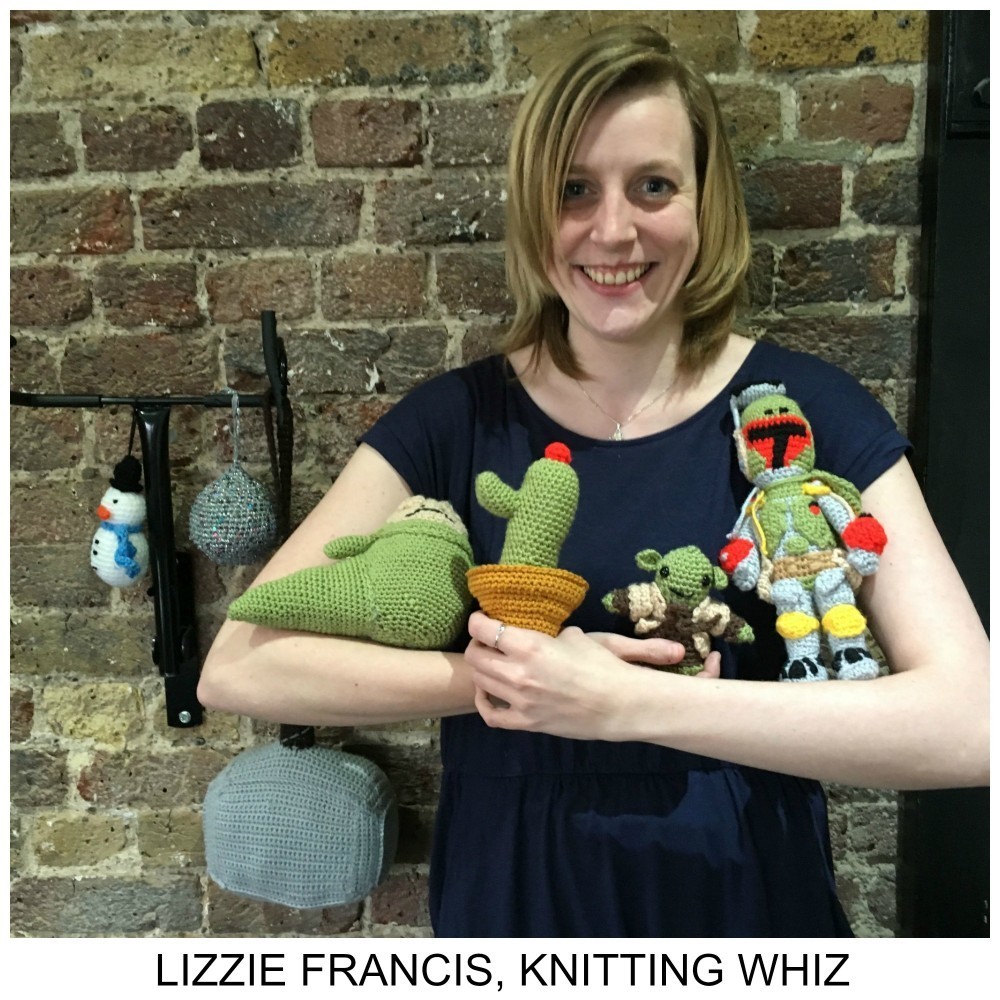 We spoke to Lizzie to find out how she raised £1050 for Great Ormond Street Hospital, crocheting from 1st - 23rd December for more than 140 hours and and making 30 characters in total – creating every single request that came in with a donation.

What inspired you to start your Knitivitiy?
Every year the whole of my workplace - Purple Creative - gets really excited and competitive about what we can create for our annual Christmas charity campaign. We've had some fascinating ones over the years and as a rule, the more impractical they are - the more we like them.
This year's was inspired by me. We were sitting there thinking up ideas as we stared at a knitted R2D2 I had made for someone's child in the design studio, and then it struck us to do a knitvity! The idea was the easy bit – the hard part was freeing me up from my day job as a full-time designer, so I could spend my whole December knitting.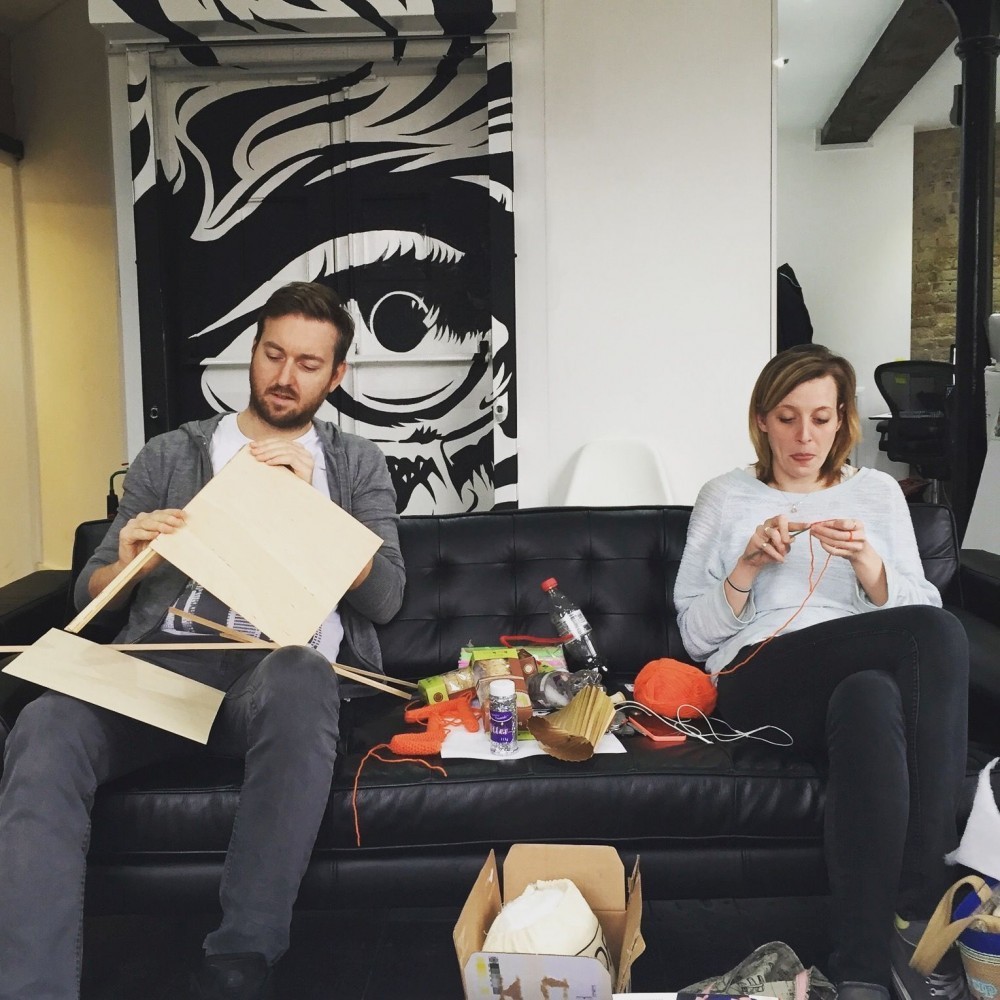 How did you go about knitting each request?
Most of the items were crocheted because it was quicker, and we needed to be prepared for whatever level of demand there was - our goal was to make all of the requests from those people who donated. I have been knitting and crocheting for a while, so I had lots of books and patterns already, as well as a huge stash of yarn.
For the patterns I didn't have, I mainly sourced them on Ravelry, looking for either an exact match or something I could adapt. There obviously wasn't a pattern for the Archangel Peter Gabriel! I was lucky though - most things weren't as out there as they could have been, and the amount of patterns on the Internet is mind blowing.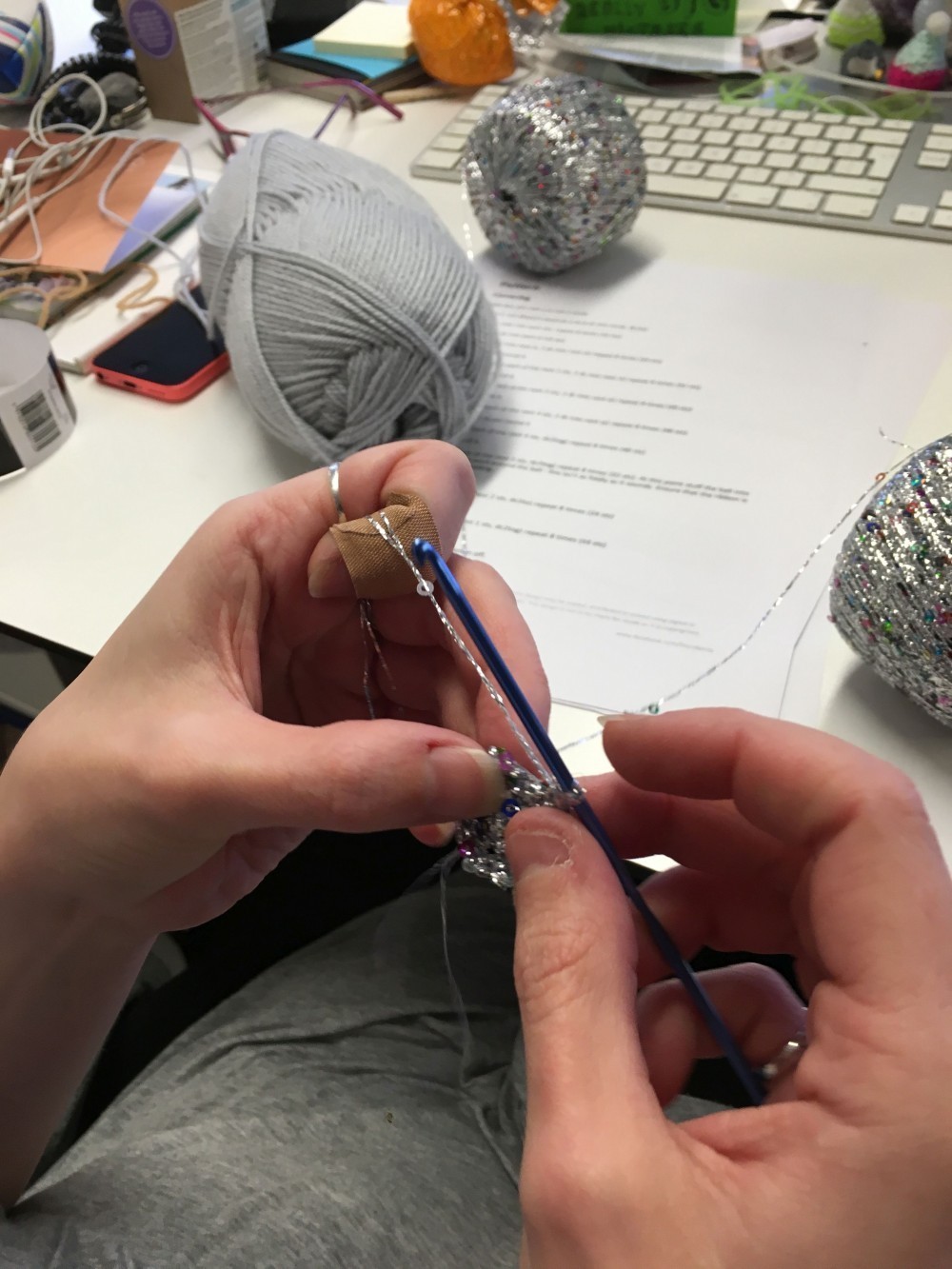 What kind of requests did you receive?
Most of them seemed fairly normal until we saw them all together at the end. There was nothing too Christmassy, which was interesting as lots of people clearly had the idea to go off piste from the normal nativity. There was the odd reference to it though with the Wise Minions and baby Yoda! Some of the requests came with interesting reasons behind them, such as the ox for a child who played an ox in his first nativity play. One request was from a Purple Creative artworker who drew me a picture and asked me to recreate their frogman in wool…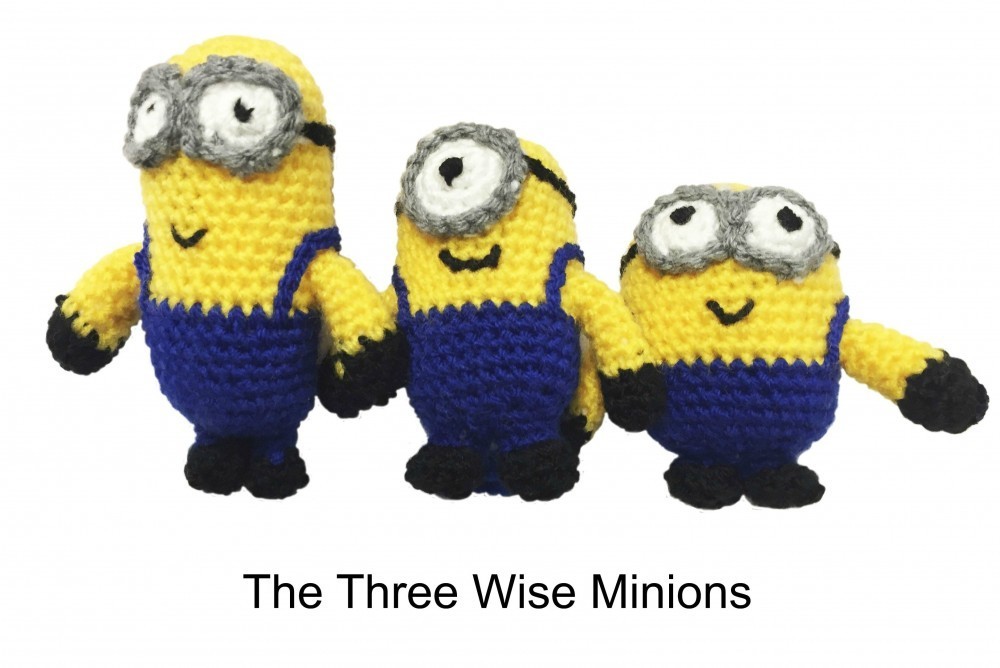 Do you think you'll carry on knitting this year?
I'm taking a brief break but only because I have a huge cross-stitch to work on for a friend's son's first birthday. I already have my next batch of requests to work on though – including a Dr Who scarf and a set of characters from the film Labyrinth, which will mean lots of pattern adapting and concentration. I also received some lovely wool and patterns for Christmas so I have them to work through too.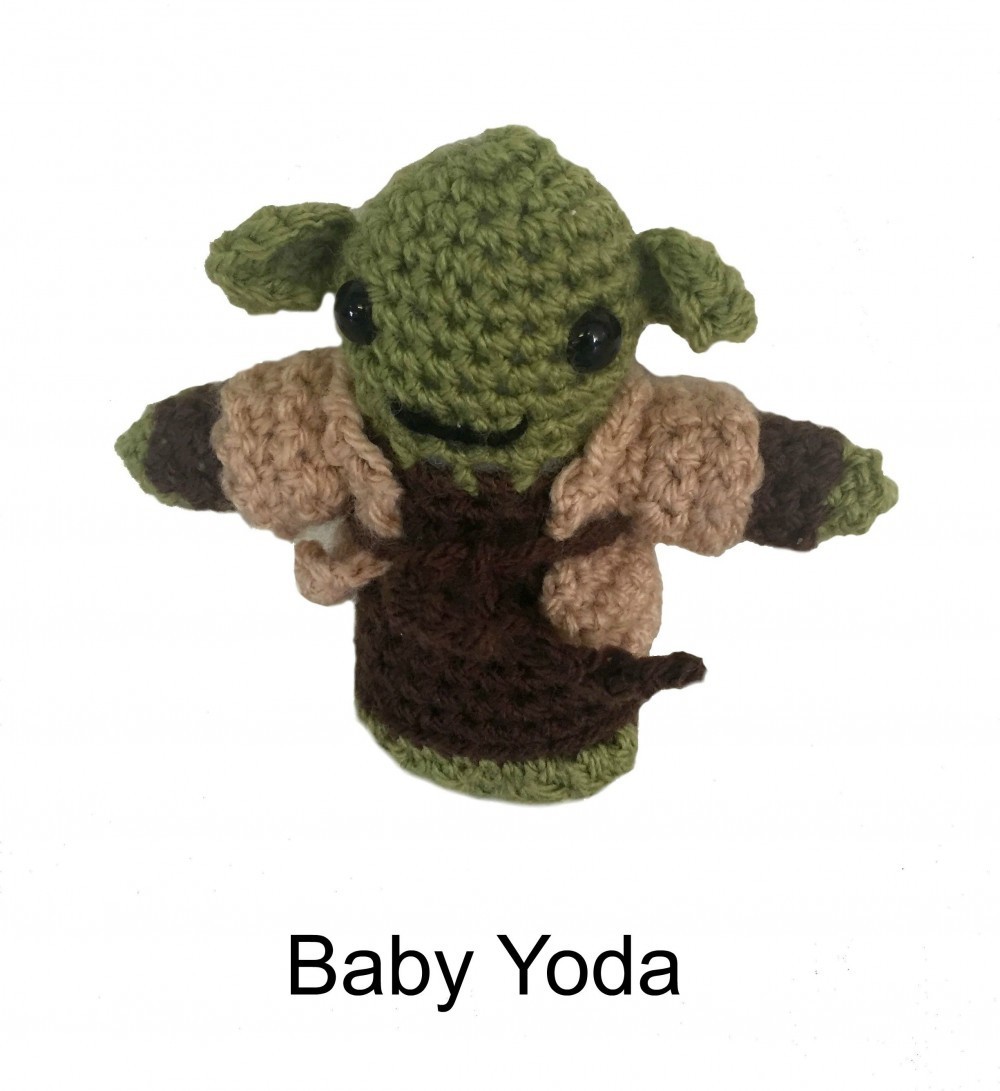 Are there any other crafty charitable plans in the pipeline, for you or Purple Creative?
Through the Knaughty Knitters group that I'm a member of, a few of us are planning on working through our books, choosing to make one thing from each, and then donating them to a food bank. One of the members does volunteer work to make sure people get some sort of present at Christmas. As I'm mainly a toymaker, there will hopefully be some happy children. It'll also help get through the stashes of wool we all have!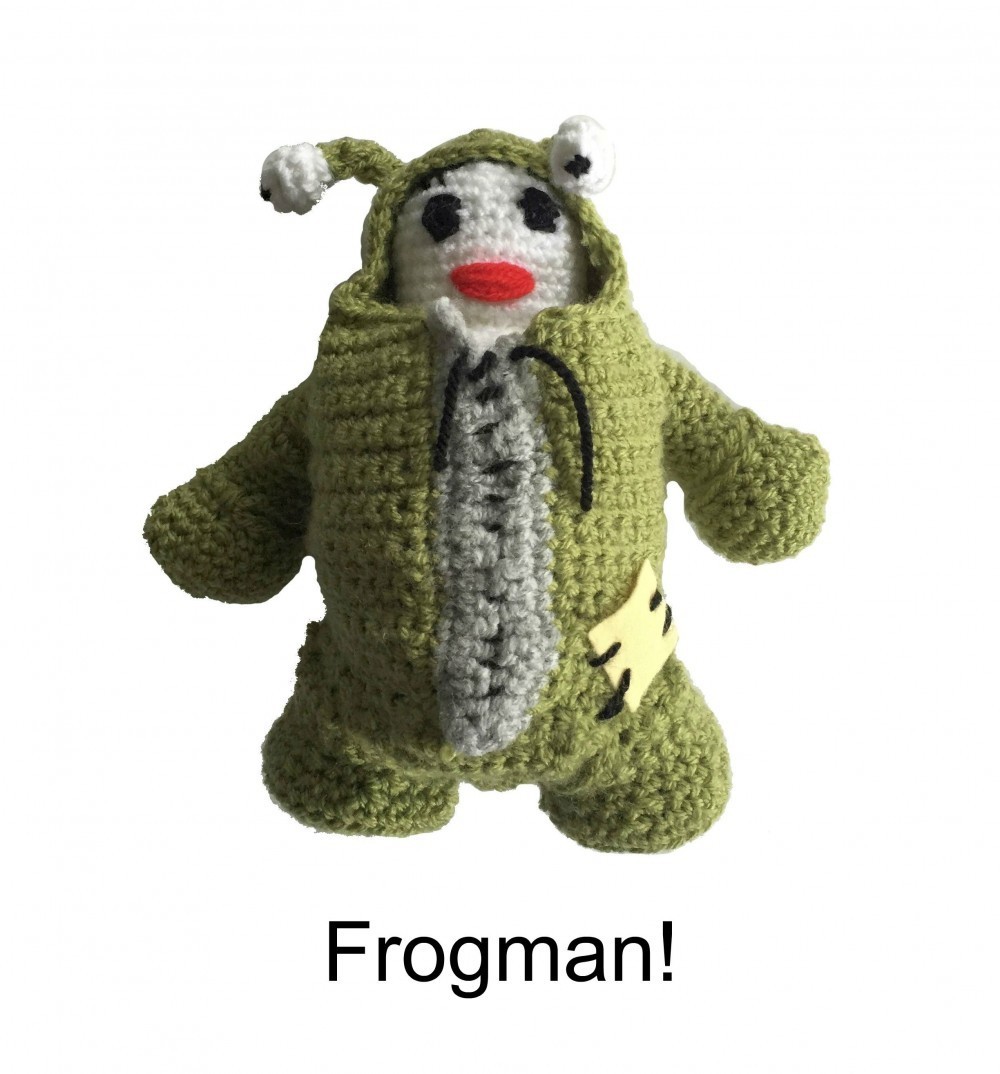 We've raised over £1050 for Great Ormond Street Hospital – and hopefully we'll do something just as enjoyable next year that taps into someone else's secret talent.
We'll watch this space – what a heart-warming tale! Well done to Purple Creative and super-knitter Lizzie for her fantastic work.